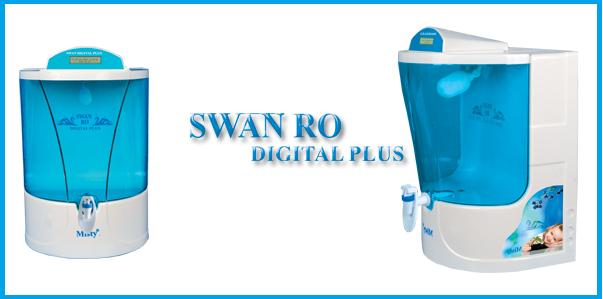 Water Purifiers for Home
SWAN RO Digital Plus (Water Purifiers)
best water purifier for home
Optimum Level of TDS removal
Alert Message for filter replacement
Alert Message for RO Membrane Replacement
Auto Flushing Indication
Digital LCD Clock Display
Inbuilt Date & Day Display
Auto Low/Pressure Cut-off/ Indication
Voltage supply protector Protects your purifier from voltage fluctuations
Purifier Running Time counter
Fully Automatic Operation with Auto ON/OFF
Virgin ABS Construction to prevent bleaching of cabinet
Reverse osmosis
Reverse osmosis is the latest technology to all remove excess total dissolved solids, chemicals in water up-to 95%. It removes Bacteria & Virus up-to a level of 99%++.It restores the original Taste and Quality Of water. Other purification method have no effects on TDS level of water.
The water coming out of the system is pure. clean, safe, odour free, sparkling fresh, refreshing healthier & most of all great tasting water for diets, baby formula, coffee, Tea, hard drinks, refreshments, drinking water, ice cubes, cooking, washing vegetables, aquariums, pets and lots of other applications.
How does Water Purifiers work?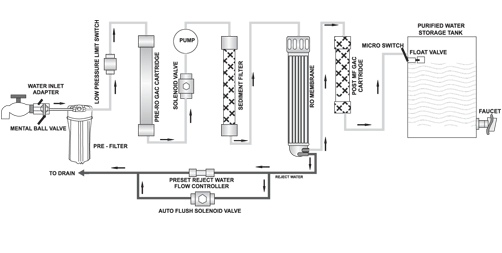 The 1 st cartridge This filter is designed for purity, corrosion and chemical resistance, available in 5 micron. This filter remove of sand, Silt, Dirt and rust particles.
The 2nd cartridge granular activated carbon, to absorb taste and odor of organic compounds including Chlorine and benzene.
The 3 rd cartridge 1 micron Sediment filter, to pre-filter, to pre-filter sediments and coarse materials and protect the special membrane & controllers.
The 4 th cartridge The Precision density (0.0001 micron) membrane which only allows water molecules to pass through, removes all impurities in water that are harmful to human health, such as heat atom, virus, heavy metal compounds and ions. The high precision filtration process ensures only impurities are removed while retaining the Oxygen content essential for good health.
The 5th cartridge post carbon filter, 3-in-1 Silver-Doser, taste Conditioner & Mineralization Cartridge to bring the stored water to a delicate taste.
Benefits Of R.O. Water
Avoid diseases borne by contaminated water
Enhances beauty
Hazard free infant food and drinking
To keep good health & fitness
Cut-down your health-screening costs
Improve taste of Nutrition
Clear Sparkling cubes to enhance the refreshing taste of beverages